Spot Light
पंडीत किचनचे शेफ - अमोद पंडीत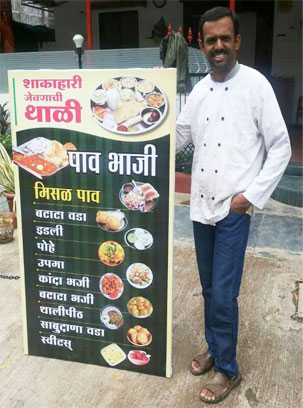 डोंबिवलीवर्ल्ड .कॉम च्या प्रतिनिधीने डोंबिवलीतील सुप्रसिद्द आणि लोकप्रिय पंडित स किचन च्या श्री आमोद पंडित यांच्याशी केलेली बातचीत …………..

डोंबिवली वर्ल्ड : आमोदजीं आपण किती वर्षे या व्यवसायात आहात ?
आमोदजीं : खरे तर माझ्या शालेय वयापासून मी या क्षेत्राशी निगडित आहे. माझे वडील आणि गुरु श्री श्रीरंग पंडित हे या क्षेत्रात तेंव्हा पासून आहेत . मी कॉमर्स ग्रॅजुएशन केल्या नंतर डिप्लोमा इन हॉटेल अँड कॅटरिंग मॅनेजमेंट केलं . वडिलांकडून प्रेरणा घेऊन मी इतर कुठल्याही क्षेत्रात व्यवसाय न करता याच क्षेत्रात काम करायचे ठरवले आणि म्हणून त्या क्षेत्रातील शिक्षण घेतले. वडिलांच्या मार्गदर्शनाने माझ्या शैक्षणिक माहितीत व्यावहारिक आणि नैतिक दृष्टीकोन येत गेला आणि माझा आत्मविश्वास वाढत गेला . त्याचा मला आता खूप फायदा होतोय .

डोंबिवली वर्ल्ड : अमोदजी, खरं तर हॉटेल क्षेत्रात दक्षिणात्य समाजाची मक्तेदारी असताना त्यांच्याशी स्पर्धा करताना तुम्हाला पुनर्विचार करावासा वाटलं नाही का ?
अमोदजीं : नाही , कारण एकतर मी त्या क्षेत्रातील शिक्षण घेतला होतं , सोबत वडिलांचे मार्गदर्शन होते ,आणि माझा निश्चय झाला होता. संपूर्ण कुटुंब माझ्या पाठीशी होतं त्यामुळे मला पुनर्विचार करावा असं वाटलं नाही .

डोंबिवली वर्ल्ड : तुमच्या पंडित स किचन मधील डिशेस ची माहिती सांगा.
अमोदजीं : पंडित स किचन हे महाराष्ट्रीयन पदार्थ उदाहरणार्थ बटाटावडा , कांदापोहे,मिसळ ,थालीपीठ , शिरा ,प्रसंगी उकडीचे मोदक ,साबुदाणा वडे अथवा खिचडी उपवासाची मिसळ असे पदार्थ खवय्यांसाठी उपलब्ध करते आणि ग्राहक हे पदार्थ खूप आवडीने खातात, घरी घेऊन जातात. बरोबरीने आम्ही इडली , मेदुवडा, मसाला डोसा,रवा डोसा, उतप्पा , आणि पावभाजी पंजाबी डिशेस सुद्धा देतो . महाराष्ट्रीयन डिशेस मधील थालीपीठ ,मिसळ यासाठी ग्राहक दुरून देखील येतात ,महाराष्ट्रीयन येतातच पण नॉन महाराष्ट्रीयन सुद्धा आवर्जून येतात . आमची मराठी गावरान थाळी सुद्धा ग्राहक आवर्जून घेतात . गावरान थाळी मात्र आम्ही फक्त शनिवार आणि रविवारी सादर करतो .

डोंबिवली वर्ल्ड : तुम्ही काही विशेष योजना राबवता का?
अमोदजीं : हो . सीझन प्रमाणे आम्ही खाद्य महोत्सव योजना राबवतो. आंब्याच्या सीझन ला आमरस मोहोत्सव ,बिरयाणी मोहोत्सव ,महाशिवरात्री दिवशी महाशिवरात्री फेस्टिवल असे उपक्रम राबवतो आणि ग्राहकांचा चांगला प्रतिसाद देखील मिळतो .

डोंबिवली वर्ल्ड : तुमचे हे हॉटेल स्टेशन जवळ नाही, तरीही ग्राहक आपल्याकडे का आकृष्ट होतात असे तुम्हाले वाटते?
अमोदजीं : एकतर आमच्या उत्कृष्ट डिशेस ची कॉस्ट तुलनात्मक दृष्ट्या कमी आहे, २० जणांचा स्वागतशील स्टाफ, मोकळी जागा, हायजिनिक पदार्थ, पार्किंग ची गैरसोय नाही या बाबींमुळे ग्राहक आमच्याकडे येणं पसंत करतात. सचोटी, स्वच्छता , सेवा या कडे आम्ही जास्त लक्ष देतो.

डोंबिवली वर्ल्ड :पंडित स किचन च्या आणखी काही शाखा आहेत का?
आमोद जी : हो , डोंबिवली जोशी हायस्कूल मागे एक आणि येत्या काही दिवसात आणखी एक शाखा सुरु करण्याचा विचार चालू आहे. डोंबिवली बाहेर ठाणे आणि मुलुंड कराना ही पंडित स किचन ने सेवा पुरवावी अशी मनोकामना आहे . माझे आई वडील , पत्नी, कुटुंबीय , माझा स्टाफ , सदिच्छक मित्र आणि ग्राहक यांच्या कृपेने आम्ही हे स्वप्न पुर्त करू शकू असा विश्वास वाटतो.

डोंबिवली वर्ल्ड : आपल्या पंडितस किचेन ची कीर्ती दूरवर जावो अशी सदिच्छा व्यक्त करतो ....धन्यवाद.


Child psychology specialist - Mrs. Manasi Sapatnekar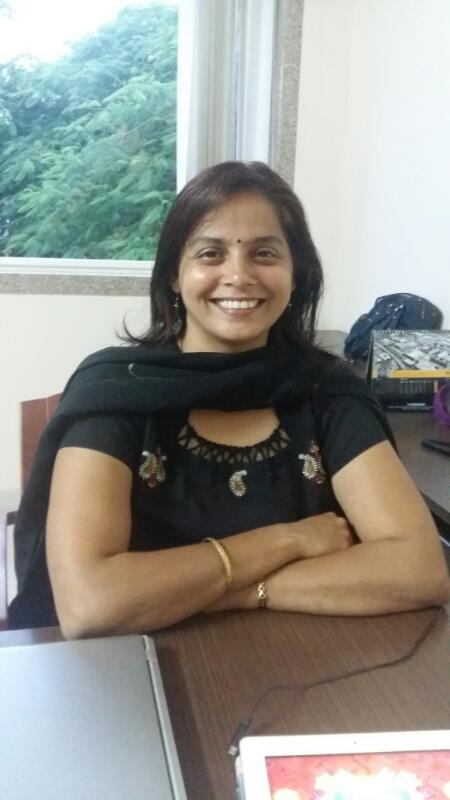 Mrs. Manasi Sapatnekar
Specialisation in child psychology.

Mrs. Manasi Sapatnekar
Mrs. Manasi Sapatnekar
Child psychology specialist

Why did you choose this profession?
Right from the beginning, my liking is towards reading people's faces and their behavior. It went on increasing gradually and then I became fond of it and I started enjoying it. I think one should really enjoy his/ her work and then only it can be done with perfection and that is called as work satisfaction. I really get inner satisfaction by helping various people in their difficult times and problems.

What are the major challenges you face when you are treating your patients?
In our country, still the people think that going to a counselor or to a psychiatrist is not good and as a result of it they simply avoid approaching us. When the problem grows and it goes out of their control then only they dare to visit a counselor. Even then they avoid opening up their mind and hesitating to communicate with free mind. So I think the people's psychology has to change. The major challenges are: Non-acceptance of mistakes by parents; Lack of consistency in following the entire course treatment; People are still under impression that only mad people visit a counselor.

Who supported you to pursue this career?
Before marriage of course my parents because they were knowing my ability to find out the solution for any kind of problem and the way I used to take interest in people's problem solving. They knew how positive I am and the patience that I have. Because having patience to listen to others' problems are very important. And after marriage my husband and in-laws are supporting me.

Of how many years of experience do you have in this field?
I started it in the year 1998 that means, I have been in this field since last 18 years and enjoying it thoroughly.

How do you balance your professional life with your personal life?
Yes that's a good question. It is really difficult to balance between the professional life and the personal life, but what I do is where ever I am at my office, I am 100% in my profession and when I am at home, I give 100% to my family. I think one should learn to keep these two things unmixed. The most important thing is with the help of my in-laws and my kids. I have 2 kids. They all are also very supportive.

What are the usual major problems of students when you are counseling them?
The usual problems are related to concentration, hyper Activeness, emotional disturbance, difference of opinion, academic issues, fear of being interactive in the class etc.

How do you manage to keep yourself so fresh and enthusiastic all the time?
I am basically a positive person by nature. I like and I prefer to spread the positivity around me. Most important thing is I love my work and I do it whole heartedly. I never take it as a burden. That keeps me fresh and enthusiastic all the time.

Is there any case which is memorable for you?
I remember one case where there was a child was deaf and dumb, so building a communication with him was very difficult and was a biggest challenge. I was not knowing how to ahead with it. Then one thing came to my mind and I learnt the sign language for that particular case, with the help of which I finally could give him the proper treatment. His parents were so happy and I felt so honored to see that happiness on their face.

If any of us wish to make career in this field, what suggestions would you give?
A person should be patient, empathetic, understanding, positive, need to be enthusiastic, full of life, ready to help, should have Arts degree. And most important he/she should choose this field by choice and not by chance.


Listing
Ad Junction - 0251-2862551
Aims Hospital - 9594072096
Aims Hospital - 0251-2475000
Aris Media Advertising Agency - 0251-2430030
Atharva play school - 9594572220
Bagade Enterprises - 9594557127
Bagde Enterprises - 9594557127
Balaji Mobile - 0251-2452974
China Town Chinese Handcart - 9833393519
EduHr career Solutions Private - 9769204999
Golden Hobby Classes - 9867400588
Gupta Sports - 0251-2862097
Kavery sweet corner - 9819370111
Kiran Flower Center - 9892473558
Krishna Motors - 0251-2448875
Magnum Motors - 8898565888
Mehz Tattoo Studio - 9930636707
NITIN SALES CORPORATION - 9870010450
Oak Speech and Hearing Clinic - 9820896980
Ortho Ved Hospital - 0251-2420008
pandits kitchen - 0251 2434203
Prabhat Appliences - 9987610488
Queens holidays - 9833589802
Raj Machinary and tools - 0251-2433672
Sairam Electronics Mob and sales - 9820562028
Shree Jee Manpower Solutions - 9096033464
shree vallari - 9820782541
shree vallari - 9820782541
shree vallari - 0251 2475687
Skylark Brodband - 8976007880
Subhash Dairy - 9221760480
Swapnapurti Home Loan - 9167576774,9881916884
Trushna Transport - 9594547148
Yash Healthcare Center - 9769769695